Solution Focused
Legal Thinking
Our experienced team of lawyers and legal professionals gives you the dedicated support you need to achieve your goals. Our team is driven by the values we share and the clients and communities we serve. We are here to help you navigate the law, whether simple or complex.
Managing Partner Attorney
Katie Pierce, Esq. (Managing/Founding Partner) has professionally handled legal matters in numerous practice areas to include business, real estate, contracts, employment law, military law, domestic law, civil litigation, and alternative dispute resolution. In addition to practicing law, Katie is a licensed real estate broker associate and avid real estate investor and property manager in Colorado. Katie has also served over 21 years in the United States Army and Army Reserve, with overseas assignments to include Africa and Afghanistan. She is currently a Colonel in the Army Reserve, serving as a Brigade Commander of the 652 Regional Support Group in Helena, Montana. Katie holds a J.D. from the University of Denver Sturm College of Law, a Master of Strategic Studies from the U.S. Army War College, and a Bachelor of Arts Degree in Philosophy Pre-Law from Santa Clara University. She has over 200 hours of continuing legal education in real estate, business law, mediation, negotiations, legislation, domestic law, and ethics. She volunteers with Colorado Lawyers for Colorado Veterans and Metro Volunteer Lawyers. Katie is a licensed attorney in Colorado and Washington.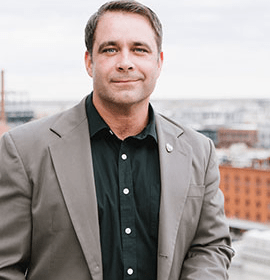 Byron Elliott, Esq. (Founding Partner) focuses on supporting real estate syndicators through the acquisition, due diligence, closing, entity formation and private equity offerings. His continued support includes contract drafts and reviews, lease agreements, and general legal consultation. He has successfully supported syndication deals in the self-storage, RV Park, manufactured housing / mobile home and mixed-use asset classes, and has personally invested in $13,000,000 in multiple asset classes. Prior to practicing law, Byron served a 24-year career in the Army, with assignments in Korea, Germany, Kosovo and Iraq. Byron holds a J.D. from the University of Denver Sturm College of Law, a Master of Business Administration Degree from Colorado Christian University, a Bachelor of Science Degree in Business from Regis University, and a Master Certificate, Government Contracting, through Villanova University. He is a graduate of the United States Army Command and General Staff College. He has volunteered as a City Leader for Bunker Labs, a Veteran Entrepreneur focused non-profit organization, and is the former President and current honorary board member of Colorado Veterans Project, a local non-profit organization. Byron is a licensed attorney in Colorado.
Megan McCulloch, Esq. (Senior Associate Attorney) Megan assists the business law and real estate syndication teams with entity formation, corporate governance, contract drafting, securities compliance, and M&A. Megan has helped sponsors and syndicators raise over $200 million for the purchase of real estate assets and interests, and also invests in real estate herself, with assets in Colorado, Arkansas, Maryland, and Costa Rica. Megan holds a J.D. from the University of Denver Sturm College of Law with a Certificate in Corporate and Commercial Law, a Master of Professional Studies in Safety and Security Leadership from George Washington University, a Bachelor of Arts in Humanities from Fort Lewis College, and an Associate of Arts in Arabic Language from the Defense Language Institute Foreign Language Center. Prior to practicing law, Megan served on active duty for the U.S. Army as an Arabic cryptologic linguist. Currently, Megan is a 1LT in the Colorado National Guard as a JAG Officer. In her free time, Megan enjoys traveling, reading, and spending time outside. Megan is a licensed attorney in Colorado.
Legal Administrative Assistant
Jenna Brown (Paralegal) Jenna was born in the Philippines but raised in Colorado. She graduated from the University of Colorado, Colorado Springs with her B.A. in Criminal Justice with an emphasis in forensics. She volunteers her time as a counselor with Heritage Camp helping to educate adopted children and their families as they learn about their culture and connect with others in the adopted community in the summer. Her interests include hiking, biking, paddle boarding, photography, and exploring Colorado mountain towns and traveling with her husband.
Alexandra Garza, Esq. (Of Counsel) has over a decade of legal and government relations experience for various Fortune 500 companies and non-profit organizations. She has guided clients in multiple Western region states through legal, public policy and political processes attendant to a variety of issues and industry sectors, including real estate development, healthcare, transportation, telecommunications, natural resources development, hospitality and energy production. Alexandra has a specialty in real estate law, legislative and political law compliance. Additionally, her experience includes agency advocacy during implementation of new laws through rule hearings, commission membership make-up, agency stakeholder's advocacy, grassroots organizing, and procurement procedures. Alexandra has handled complex real estate transactions for real estate developers and owners including a one of a kind $623 million Saint Joseph Hospital facility in Denver which was featured in the Denver Business Journal and other media outlets. Alexandra holds a J.D. from the University of Denver Sturm College of Law, a Master of Firm Administration from Sturm College of Law, and a Bachelor of Science Degree in International Business from the University of Colorado. She volunteers on the board of the Special Forces Foundation. Alexandra is a licensed attorney in Colorado.
Stacey Bowers, Esq. (Of Counsel) Stacey has almost thirty years of legal experience and is licensed in Colorado and California. Stacey assists the business law and real estate syndication teams with all aspects of representation. Stacey started her career at the U.S. Securities and Exchange Commission in the Division of Corporation Finance. She also worked as in-house securities counsel for two companies guiding them through their initial public offerings and on-going obligations as publicly-traded companies. Additionally, through her career Stacey represented a number of companies in their public offerings and in regard to on-going securities law compliance requirements. Stacey's passion is helping entrepreneurs raise capital to fund and grow their business and loves working with and advising founders of startup ventures. She has represented a number of companies from inception to raising capital through exempt offerings and beyond. Stacey holds a J.D. from the University of Denver Sturm College of Law, a Ph.D. in Education from the University of Denver Morgridge College of Education, and a B.S. in Accounting from the University of Pittsburgh. Her interests include running, hiking, golfing, and generally enjoying the outdoors.
Matt Kulseth (Co Counsel) Matt focuses his legal practice entirely on trademark law and works with clients throughout the United States. Matt is truly a "people person" and gets satisfaction from the relationships he builds with clients and their brands. When Matt isn't practicing law or responding to calls at the fire department where he is a volunteer firefighter, he manages an American made dog gear company. He enjoys spending time at his cabin with his wife Maggie, and daughters Faye and Ruby.